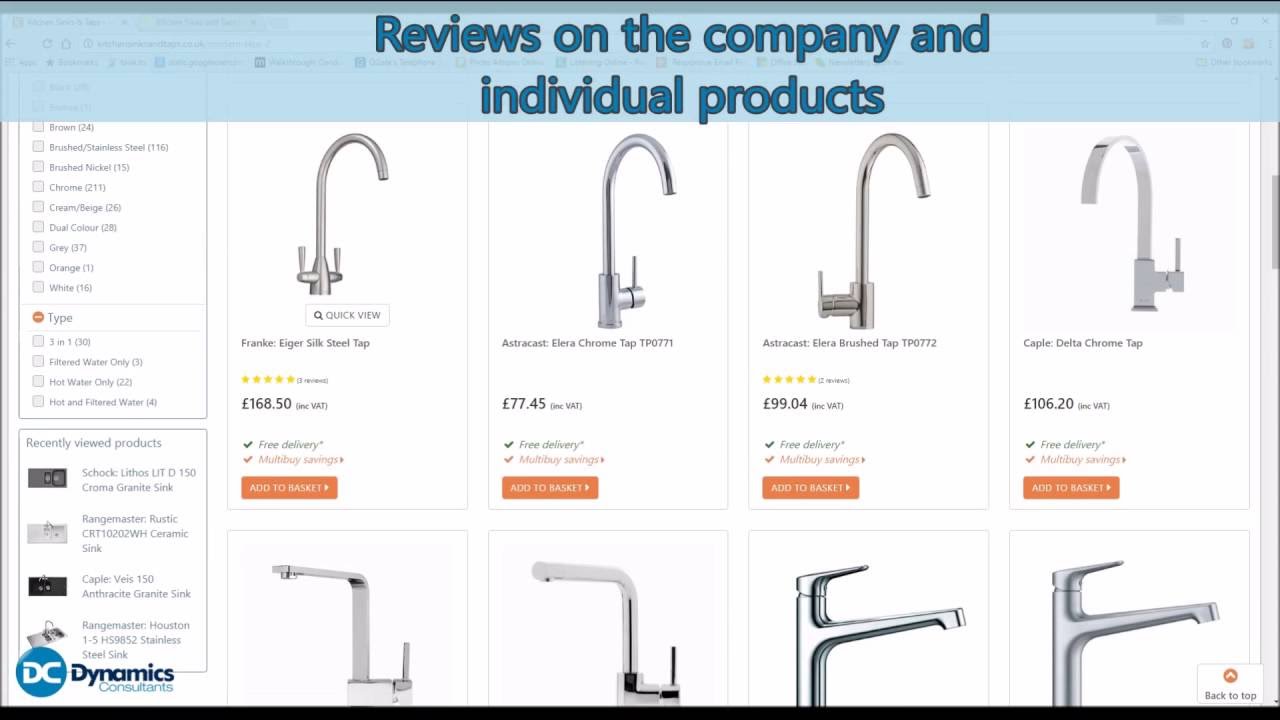 The Kitchen Sinks and Taps e-Commerce Site is now Live!
Kitchen Sinks and Taps sells within the kitchens, bedrooms and bathrooms (KBB) industry. Their aim is to provide products quickly and at a trade level low price to both consumers (B2C) and businesses (B2B). This is achieved by only selling through an e-Commerce web shop which keeps the selling effort to a minimum and greatly reduces running costs. We have developed their new website on the nopCommerce platform, hosting a wide range of market leading features.
Modern Site Features for Users
As well as providing a modern look and feel, it is important for any e-Commerce website to be fully responsive. This means that on any device size the website will be easy to use; great for both the user experience and the Google Search ranking results on mobile devices.
Different product groups, ranges and brands can be segmented according to different criteria, either from the menu or the helpful filter tool.
The Quick View feature allows users to view details and add items to a basket without having to navigate away. This has been shown to increase the likelihood of a customer ordering by making the purchase process easier.
Basket View allows a quick summary of your order, allowing you to go straight to checkout or to update your basket.
Update your shopping basket and proceed to the checkout where there is a wide range of payment options.
An Intelligent Set of Tools for the Site Administration
nopCommerce offers a wide range of tools to manage your store. This includes managing item details, including pricing, description and item attributes. From here the site owner can also manage the stock levels and process orders.

Use of nopCommerce Plugins
Our web development team have produced a number of nopCommerce plugins, all of which were used on this site.
Feefo Review integration
Feefo Review provides a service to e-Commerce websites that contacts customers after they have made a purchased to request reviews on the service and products. With the nopCommerce plugin these reviews are directly added to the website, both as a website review and for the individual products.
Google Analytics Enhanced e-Commerce
Standard nopCommerce only supports the basic e-Commerce Google Analytics tracking. Our plugin replaces the standard nopCommerce functionality, allowing for use of Google's Enhanced e-Commerce tracking tools.
This feature includes tracking of product impressions, products added to shopping carts and the completion of orders.
Google Merchant Center nopCommerce Plugin
Our plugin allows for automatic real time upload of products into Google Merchant Center. The benefit being that your product listing on Google Shopping Ads will be current and up to date, therefore driving increased traffic and sales to your website.
Specially Developed Tools
Our expert development team are certified in developing the nopCommerce platform, and as official partners we are well placed to provide developed solutions in the UK.
Custom Google AdWords integration
Our development allows the creation of product Google AdWords campaigns from the administration area of the website.

InsiteTrack integration
The Insite Track tool allows you to track competitors and offer daily price changes based on the market. This allows the web store to be easily kept up-to-date with competitive pricing.
Multi Buy Price Discounts
This feature allows for multibuy savings on selected products.
Custom Sales Reports and Refund Management
We have created sales reports to show the profit from the website, which factors in refunds. The refund management allows auto recalculation of correct refunds taking into account the multi buy discounts.

Improved Product Management
We have provided tools that use pre-defined templates for inputting products onto the system, allowing faster input of specification attributes and product descriptions.

Find out what you can achieve
As business experts, we are able to work with you to understand how you can profit out of gaps in the market by providing you with a standard or bespoke solution. Based in Southampton, our goal is to be the go to company for e-Commerce solutions. Contact one of our friendly and knowledgeable staff to discuss your future.
I find their approach to our relationship very professional whilst being refreshingly realistic. We now consider them to be part of our team

Lee Crowhurst, Technical Director